Call Us For Party Buses Rentals In Orange County
1-800-856-1938 For Rates & Reservations
30 Passenger Party Bus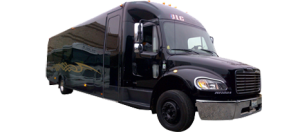 30 Passenger Party Bus
Seats 30 Children or 26-28 Adults
IPOD/AUX HOOKUPS (bring aux)
Complimentary Ice
Premium Sound system
LED and Strobe lighting optional
From $175 Fri&Sat + SC
Service Charges Not Included
Free 6th Hr Promo available Sun-TH (min 5 hr paid rental)
All Of Our Party Buses Are
Great For Vegas Trips, Proms, Weddings
Or Just A Fun Night On The Town Clubbing!!!
 Here's What's In (Most) Of The Party Bus Rentals
IMPORTANT! Not everything is in All of the party buses we offer but most of the equipment listed above is in most of the party buses! If you see something on the list above that you simply MUST have in your party bus rental please ask the reservationist if that item is actually in the party bus you want to rent before you decide to book it!

Need More Info Before You Rent A Party Bus?
For loads of good information, insider tips and good advice about how to rent a party bus, visit our authority information page located at Orange County Party Bus Rentals! We explain all the do's and don'ts and answer the most frequently asked questions about renting a party bus in Orange County. And of course, feel free to just call us with your questions specially if you need a luxury Party Bus in Orange County.

We provide party bus rentals in Orange County and specialize in these high density areas where party bus rentals are in high demand:
Party bus rentals in Anaheim! Use locally or tour LA and Hollywood. Proms, Wedding and Concert Party Bus.
Party bus rental in Irvine! Use locally or tour LA and Hollywood. Prom, Wedding and Concert Party Bus.
Newport Beach and Newport Coast party bus rental
30 passenger Newport Beach party bus rental or Newport Coast party bus! They are a fun way to party in the best of beach areas!
30 passenger party bus rental in Huntington Beach! Party Buses are a great way to hang at the beach... hit all the bars and head back to the bus to continue the party!!
We Look Forward To Serving You...
For Reservations Or Answers To Your Questions
Please Call Our Friendly Phone Staff Toll Free!
Orange County Limousine Services
1-800-856-1938